First thing we are going to discuss is the nether. We have decided it will be 100% reset. This choice took a long time for us to decide on because we do not want people to lose their work, however we have always stated that end and nether can be reset at any time.
Now, we aren't going to be poops about it. You have a week to post here with the cords/home name of the build you want to keep. We will only be taking LARGE farms over. Everything else will be deleted. Chest contents will not copy, signs will copy, but they will be blank. I know some of you might not find this fair but unfortunately it is what we are offering at this time.
We will look at all posts and make the choice on moving it. If we decide not to move it we will let you know before we reset if you want to collect your resources. Also be warned that when we move farms your redstone work will not copy properly and will need to be redone.
YOU HAVE UNTIL SEPTEMBER 1st
With a fresh map, we will need a new spawn in the nether. That is where you come in! Our next contest will be to build a spawn for the nether.
You can /warp netherspawn to claim your area to build. Make sure that you stay within your square. Do not build down and keep it to a nether theme.
Now let's talk about September. On the 26th it will be BaaaCraft's 3rd birthday so we have a lot of fun stuff planned for the month.
We will be updating the MobDisguise options for sale in the perk shop. For $50 you will have access to ALL disguises except for Baby sheep (mods special), withers, dragons and other players.
We will be releasing a new birthday pack at the start of September, that will go away at the end of September.
In this pack you will get:

Fly forever

ALL disguises (excluding those listed above)

Keep XP

Custom Wings!


A shiny custom BDAY bow
$120 value for $50!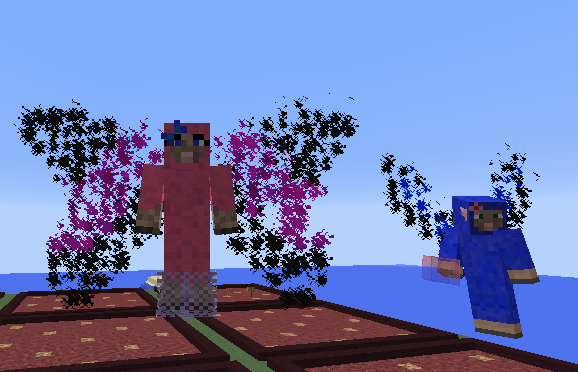 Once we reach our donation goal this month we will be installing a spawner plugin. Some of the features are:
Set spawners
Set silkytouch
Buy spawners off signs
Your donations is what keeps this server running. without you we would not be celebrating our third birthday. All donations are greatly appreciated and go directly to supporting the server!
Starting September 1st, we will turn on double MCMMO for the entire month and be doing weekly events all month long!
Some events planned are Obsidian Mountain, Drop Parties, & Dragon/Giant parties. Keep an eye on the news to see what's coming!
I was going to say who won the wheel contest in this news but without too many entries I'm going to let it go another month. Visit /warp wheel to claim your spot and build a ferris wheel.
Incase you missed the shout, fts will be down until further notice.
TL;DR: Nether is getting reset, Birthday news & new donation items/packs